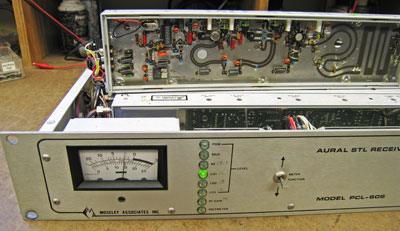 Here is a Moseley PCL-606 STL (Studio-Transmitter-Link) receiver from the mid-1980's. On the bench because it quit working, you can see one module pulled up for service. Fortunately, the front-panel multi-meter switch led me to LO1, the first local oscillator. The normal reading is mid-scale, but this one read zero upon arrival.
The problem turned out to be C19, an 18 pf variable capacitor, used to tune the first frequency doubler on the 940-960 MHz 1st L.O. (local oscillator) module. Moving this control slightly restored normal operation. Well, that might work for a while, but certainly is not a permanent cure. I have seen this happen before. Replacing the controls was the right option. Apparently the insulation/plastic dielectric between capacitor plates fails and shorts the capacitor.
If you run into this, I recommend replacing all 18 pf capacitors on this board with the nearest current industry equivalent, 22 pf. There are two similar capacitors in the IF on the 70-3 Double Converter board, which should also be replaced to prevent future problems.