Radio Broadcast Technical Consulting and Sales
10032 Island Drive, Brainerd, MN 56401
---
Technical Tips from Mark W. Persons
QEI Quantum E Series 600 Watt FM Exciter Modification
---
October 23, 2015
: This is a
QEI Quantum 600e FM Exciter with its power supply in the background. The E Series comes in 150, 300, and 600 watt models.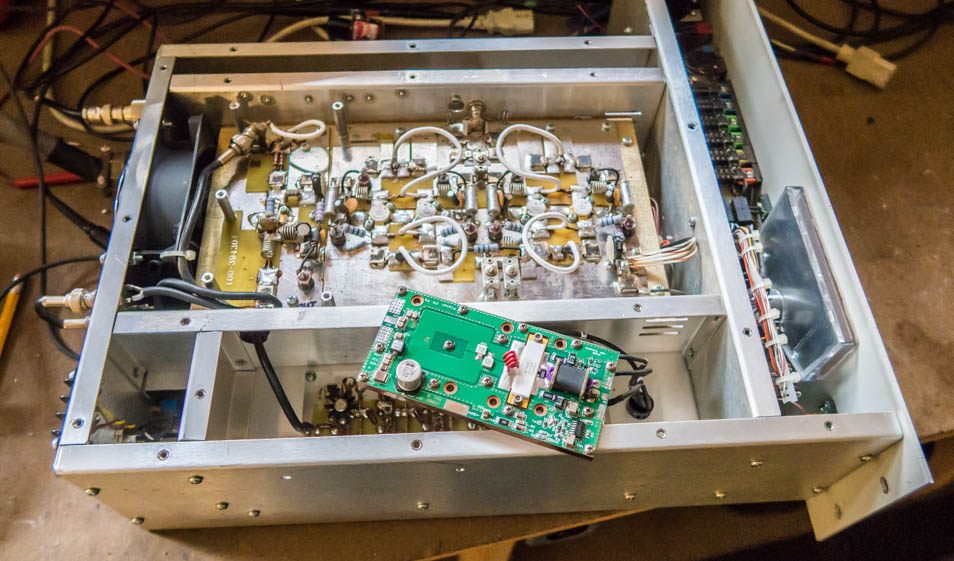 This one had a badly failed 600 watt output amplifier, which you can see in the center. A new Broadcast Concepts BLF188XR Planar 1000 watt amplifier is the green pallet lying on top of the chassis. It is destined to become the new output amplifier for this exciter in the M. W. Persons shop.

Here is the completed assembly with the original 600 watt amplifier removed and replaced with the new 1000 watt pallet from Broadcast Concepts. That doesn't mean the exciter can run 1000 watts. Power is limited by the size of the power supply and the low-pass RF filter at its output. A shorted quarter wave stub is the tan colored coaxial cable to the right of the new amplifier pallet. The stub was added to provide a DC short to protect the RF amplifier from an arc-over in a tube transmitter it might be driving or a lightning hit.
This modification is not for inexperienced tech or the faint of heart. The original 15 watt driver is on the left with its bias turned down a bit to reduce its gain.

If you've had a problem where audio went away unexpectedly, you may have had an intermittent composite audio gain control at the input to the exciter. This modification replaces the single-turn control with a 10-turn trimpot accessed from the rear panel. You see the yellow trimpot mount in the lower left of the left photo. It is connected to a circuit card with orange, white, and black wires. The right photo shows the control just below the Composite level label at the rear of the exciter. Use a jeweler's screwdriver to make an audio level adjustment. This modification also allows you to set modulation level without having to open the exciter's cabinet.
---
The stories go on and on. Stop in again sometime. I'll leave the soldering iron on for you.
Mark W. Persons Ham WØMH Return to Tech Tips Page
page last edited 02/22/2016