Radio Broadcast Technical Consulting and Sales
10032 Island Drive, Brainerd, MN 56401
218-829-1326
---
Technical Tips from Mark W. Persons
Harris FM IPA Directional Coupler
---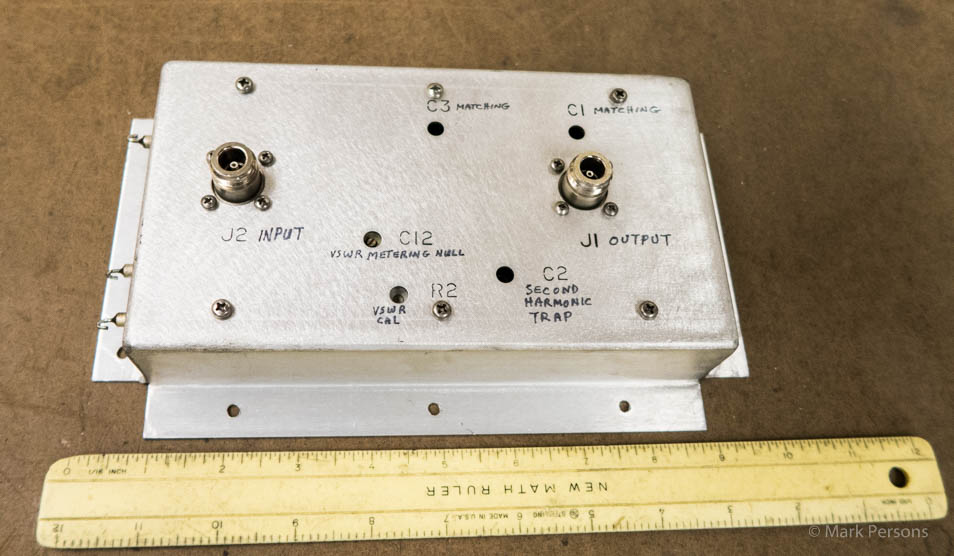 November 10, 2015: This is a Harris, now Gates Air
992-5620-001 LPF/Directional Coupler used in Harris FM-3.5K/5K/10K/25K/35K FM transmitters and Harris HT series FM transmitters. It is a low-pass filter with directional coupler for reading forward and reflected power from a solid state IPA (intermediate power amplifier).
They typically handle up to 600 watts of RF drive to the final tube in the transmitter. Metering outputs on the left (top to bottom) are: C15 Meter Common, C14 Forward Sample, and C13 VSWR Sample.

The bottom side shows a nasty problem where one of the mica capacitors failed in a "blaze of glory." You can see that in the top of this photo. Not to worry, it was repaired and brought back to Harris specifications at the M. W. Persons shop.

Here is the assembly on a frequency response test showing the low pass filter roll-off and notch at the second harmonic.

You can see that the filter rolls off beyond 108 MHz, and not before.

A closer look at the second harmonic trap, which is tuned to 196.2 MHz. It attenuated that by 62 dB. The transmitter's tube does not need second harmonic energy, just the fundamental, which is 98.1 MHz in this case.
| | |
| --- | --- |
| | The pass frequency of 98.1 MHz was adjusted for best return loss, which was 60 dB down from a -12 dB reference point on the return loss bridge. That put the VSWR of the unit at better than 1.01:1 at 98.1 MHz. This is very important in getting the transmitter to run right. |
Whenever you repair one of these couplers or change frequency in a transmitter using one of these, it is very important to have the unit aligned on the bench before it goes in the transmitter. It will save a LOT of trouble later.
---
The stories go on and on. Stop in again sometime. I'll leave the soldering iron on for you.
Mark W. Persons Ham WØMH Return to Tech Tips Page
page last edited 03/02/2016