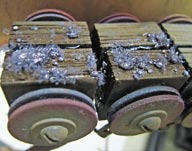 The older
Collins/Continental
transmitters also have selenium diodes (VR1) on the high voltage power supply and (VR2) on the screen voltage power supply. They are
known in the parts manual as "Absorber, Overvoltage."
More specifically, the selenium stacks are wired across filter reactors.
The left photo shows a bad one being removed from the high voltage reactor. The right photo is a close-up of some of the failed devices.
Continental has deleted these selenium stacks from current designs because, as we heard, they were not needed and turned out to be more trouble than they are worth.