Radio Broadcast Technical Consulting and Sales
10032 Island Drive, Brainerd, MN 56401
---
Technical Tips from Mark W. Persons
New Meter for a BE FX-30 FM Exciter
---

Monday, April 23, 2012: Mark just finished the repair of a Broadcast Electronics FX-30 FM Exciter.
The most difficult part was replacing the analog meter on the front panel.
When the exciter arrived here for repair, the meter had been removed and was completely missing.


A check with Broadcast Electronics revealed that the meter (part number 310-0005-1) was no longer available.
Fortunately there was another FX-30 FM Exciter in the shop at the same time awaiting repair.
Mark removed the meter scale from that meter and scanned it on a flat-bed scanner.
From that, he was able to print an exact copy on photo paper.


He put the new photo paper faceplate on this used RCA power meter, salvaged from a transmitter which had been scrapped.
The meter has a 20 u.a. movement. To make it 1 m.a. full scale, Mark put a shunt resistor across the meter terminals.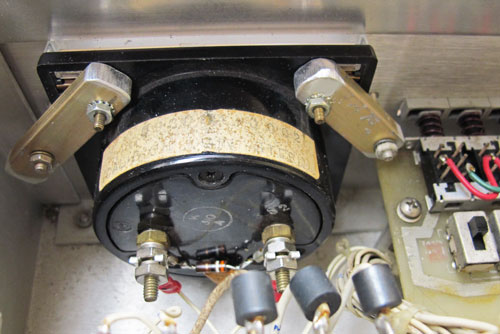 It also took custom brackets to secure the meter in place of the original meter in the exciter.


In place and working in the exciter, it was a job with a good ending and a lot of satisfaction.

---
The stories go on and on. Stop in again sometime. I'll leave the soldering iron on for you.
Mark W. Persons Ham WØMH
page last edited 02/15/2017