Radio Broadcast Technical Consulting and Sales
10032 Island Drive, Brainerd, MN 56401
218-829-1326
---
Technical Tips from Mark W. Persons
Variable Coil Repair for an AM Station
---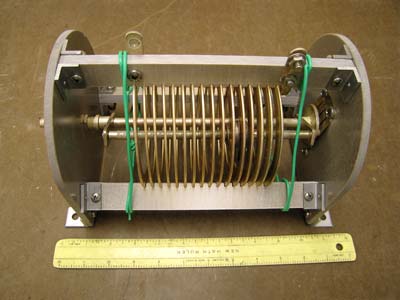 This is a Kintronic Labs LV16-20, 16 uHy/20 Ampere variable coil. They are most commonly used in an AM directional phasor system. This particular coil developed a problem where the contact rotor disk froze to the shaft it rides on. The repair involves removing the disk and shaft.
Before starting any parts removal, it is important to keep the three fiberglass bars in place around the coil. Otherwise, it could complicate reassembly by a factor of five. I use #12 solid wire to hold those three bars in place. In this case, the #12 wire insulation is green so it can be easily seen in the photo.
Use a screwdriver to remove the six screws that secure each end of the coil mount from the three fiberglass bars.
Here is the coil disassembled far enough to get the shaft with contact rotor out far enough for repair.
---
The stories go on and on. Stop in again sometime. I'll leave the soldering iron on for you.
Mark W. Persons Ham WØMH
page last edited 02/22/2016