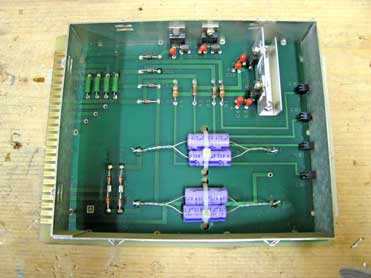 Since it was unlikely that a 50 KHz spur would occur in the high-level stages of the transmitter, I turned my attention to the low voltage power supply. It furnishes +5 VDC, +12 VDC, -12 VDC, and -6 VDC to low-level parts in the transmitter.
Because the transmitter was more than 20 years old, it was likely that electrolytic capacitors in the power supply had opened and were no longer preventing the voltage regulators from going into oscillation. Two of the larger capacitors, in the module, had been replaced previously.
Replacing all of the electrolytic and tantalum capacitors is good engineering practice.