Radio Broadcast Technical Consulting and Sales
10032 Island Drive, Brainerd, MN 56401
---
Technical Tips from Mark W. Persons
Continental 315R-1 AM Transmitter
---
| | |
| --- | --- |
| | A Continental 315R-1 broadcast transmitter. This 5 KW AM transmitter is sometimes referred to as a Collins Power Rock because it was originally designed by Collins Radio and was in production from 1976 to 1996. Here it is standing next to an older Collins 21E 5 KW AM transmitter from the 1950's and 60's. |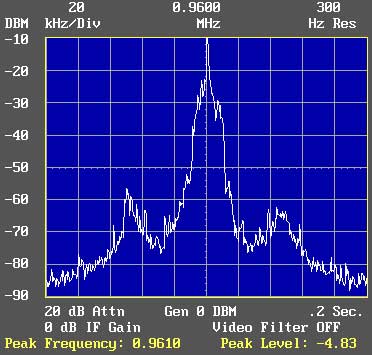 This is a spectrum analyzer view of a 315R-1 on 960 KHz. I found this while doing the annual FCC required occupied bandwidth and RF harmonic measurements on a station. This would not pass the FCC test and needed to be attended to.
My IFR A-7550 Spectrum Analyzer really told the story. Unwanted spurious radiation peaked at about 50 KHz from the carrier. There was also plenty of noise going out to 100 KHz.
Now...what to do about this mess???
The transmitter has a name plate is just above the card cage which houses the logic, audio, PDM (Pulse Duration Modulation), and low voltage power supply cards.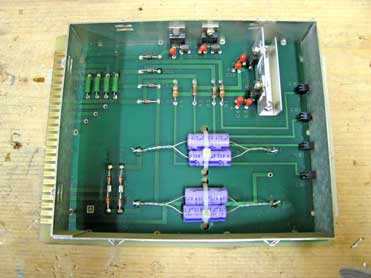 Since it was unlikely that a 50 KHz spur would occur in the high-level stages of the transmitter, I turned my attention to the low voltage power supply. It furnishes +5 VDC, +12 VDC, -12 VDC, and -6 VDC to low-level parts in the transmitter.
Because the transmitter was more than 20 years old, it was likely that electrolytic capacitors in the power supply had opened and were no longer preventing the voltage regulators from going into oscillation. Two of the larger capacitors, in the module, had been replaced previously.
I replaced all of the electrolytic and tantalum capacitors just for good engineering practice and to save the customer time in troubleshooting.
Success!!! The noise went away returning the station to a normal signal. It is a good thing that we continue to do these NRSC (National Radio Systems Committee) measurements so that problems are found and repaired.
| | |
| --- | --- |
| | There is a drop-down front door that makes the transmitter somewhat easier to work on. Front door components are connected via a wiring harness at the bottom/back. |
| | After years of fan vibration and service work, the wire insulation can fray and cause intermittent trouble. This hard-to-find easy-to-fix problem happened at the sharp edge of a hinge rivet. |
---
The stories go on and on. Stop in again sometime. I'll leave the soldering iron on for you.
Mark W. Persons Ham WØMH
page last edited 02/22/2016