---

DX Listener Reports for WVAL, Sauk Rapids, MN, USA

---
WVAL-AM specifications:
800 KHz
2600 watts, 2-towers directional day pointing 45 degrees true
850 watts, 3-towers night pointing 300 degrees true
45° 36' 18.00" N Latitude, 94° 08' 21.00" W Longitude (NAD 27)
Send listener reports to teki@mwpersons.com
---
Dear Mark, I had the real pleasure of catching station WVAL on 800 kHz when listening to radio stations on an expedition to the Finnish Lapland. My receiver was a software defined communicationsreceiver Perseus and as an antenna I used a 3,000 ft longwire to west, 292 degrees. 31 January 2021 10.19 pm local time (1 Feb 04.19 am GMT).
I am 54 years old and married with Kristiina. I work as Professor of English at the University of Eastern Finland in Joensuu where I teach English and Cultural Studies. My main field of research is American and British literature, and I have published a number of books in this area. I am particularly interested in postcolonial and ethnic studies.
Joensuu is a lively town in eastern Finland only 60 kilometers to the border with Russia. There live about 75,000 people here, and the most important trades are commerce and services. Besides the University, founded in the late 1960s to provide experts for the needs of Eastern Finland, many other schools are located here, too. Joensuu is best known for its annual rock festival: the Ilosaarirock (
www.ilosaarirock.fi
) festival with 35,000 participants is going strong and attracts lots of young people to the town every July, but not this year, of course.
Dr. Jopi Nyman, JOENSUU, FINLAND
---
Mark! My name is Ole Forr. I'm a 63 year old radio entusiast from Norway (Europe). I like to try to pick up North American AM stations. Together with friends

OJ Sagdahl and Bjarne Mjelde

, we have an antenna project in Northen Norway (Kongsfjord). On October 17, 2020, it sounds like we had a good opening to Sauk Rapids, MN, as I was able to hear both WBHR 660 and WVAL 800.
At
1:00 a.m CDT for WVAL, c
ountry music followed by a station Jingle "....W-V-A-L Sauk Rapids-Saint Cloud."
See our blog at: http://arcticdx.blogspot.com/ Thanks. Ole Forr, Sor-Fron, Norway.
---
October 14, 2020: At 00.32 a.m. Central Daylight Time I noticed a country song on 800 AM, which my Shazam app recognized to be "My Blue Angel" by Aaron Tippin. At 00.33 a.m. non-stop Merle Haggard with "Kentucky Gambler." The signal disappeared for a while, but then at 00.45 a.m. the identification, "This is AM 800 WVAL." More country music after that. Heavy interference from CKLW Windsor, Ontario the whole time. At this point I just can't help bragging a bit :) that I've seen Merle Haggard live way back in 1977 in the holiest of all country venues, the
Grand Ole Opry
...Best regards,
Jussi Suokas, JOENSUU, FINLAND
---
Greetings from northern Sweden, I am writing to report my long distance reception of radio station WVAL on 800 AM here in Sweden. This was the first time I happen to pick up this station, so it would be very nice hearing from you, confirming that it was in fact WVAL that I received.
I am in the 40's and live in Ume in northern Sweden. This is a university town with a population of about 120.000. I have a wife and two girls (9 and 7 years). I work as a researcher in Molecular Biology at Ume University, and I have been enjoying DX-ing since I started listening to shortwave on my parents' Arena gramophone/radio receiver back in the 80's.
My report is from October 27, 2012, at 10:00 pm CDT (0300 GMT/UTC). The location was Parkalompolo, a small village in the far north of Sweden (north of the Arctic circle). My receiver is Perseus software defined receiver and the antenna was a 1000 meter wire beamed towards the central parts of North America.
There was also interference from other stations using 800, one of them was Radio Canon in Mexico. I think your transmitter did a good job indeed that day! I heard "Country, we're 800 WVAL," then a country song was heard. That station is definitely among the best "catches" I have done in recent years. Any info about your station is of interest too.
Thank you very much in advance and the best to you from Sweden, Jan Oscarsson
---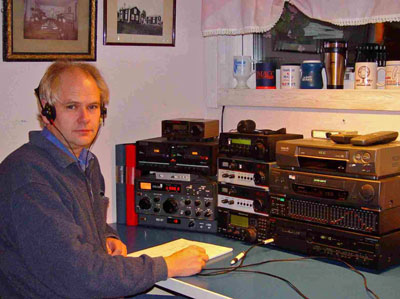 Dear Mark, I wrote you regarding my KKIN reception on an DX expedition in Swedish Lapland and had a real nice confirmation of that reception from you plus an article on your DX-reports page! From the same date as KKIN was heard, I heard even rarer WVAL AM 800! Quite a nice skip made by WVAL!

RADIO STATION: WVAL Sauk Rapids MN
FREQUENCY: 800 kHz
RECEPTION DATE: October 31, 2010
RECEPTION TIME: 4.40 - 4.42 AM Central Daylight Saving
RECEPTION QUALITY: Fair to good.
ANTENNA: 3,000 foot wire pointing to the northwest in Parkalompolo, Sweden.
PROGRAM DETAILS: 4.40 Country classic: "Howlin' at the Moon" (Hank Williams) 4.41 Station ID: "All the best songs about ...., drinking and .......trains. Original Country Radio WVAL." Country music: "Here's Some Love" (Tanya Tucker) fade out.
Sincerely,
Bo Olofsson
Byske Sweden