---

DX Listener Reports for KKIN, Aitkin, MN, USA

---

KKIN-AM specifications:
930 KHz, 68 degree tower
2500 watts day non-directional
360 watts night non-directional
32' 26.00" N Latitude, 93░ 39' 22.00" W Longitude (NAD 27)
Send listener reports to teki@mwpersons.com
---
Dear Mark, I had the pleasure of picking up KKIN in Aitkin, 930 kHz. The frequency is usually dominated by a Canadian broadcaster. This time KKIN was able to push through so that the call letter identification and the city-of-license were audible on the top of the hour.
KKIN Aitkin on 930 kHz, January 19, 2013, CST PM, just before your midnight:
11.59 The signal of KKIN started to get stronger, and I was able to hear the identification just before the top of the hour, a male announcer:"...KKIN, Aitkin."
12.00 Very rapid fade away followed, and the signal was once again covered by the another broadcaster
I was using my Perseus SDR software defined radio receiver to hear KKIN, and the aerial was a 3000-feet long "beverage" antenna, directed to US Midwest. The reception took place in the same location, where I've reported the other Minnesota-stations as well, in northern Finland in the region of Lapland.
Cordially,
Hannu Tikkanen
Espoo, Finland
---
Hello Mark,
I am a radio enthusiast who enjoys listening for long distance radio signals and

heard KKIN 930 KHz in Lemmenjoki, Lapland, North Finland, on a one week long DX-pedition. We enjoyed excellent reception conditions thru the entire week. I heard the station on October 30, 2012, at 7:00 AM CDT. The station identification was: 11 AM, 9-3-0, K-K-I-N, Aitkin.
My setup consists of a Perseus SDR-receiver and the antenna system, consisting of long wires hanging on the branches of trees, was designed for DX reception on the AM broadcast band. Because of the long antennas and favourable atmospheric conditions we were able to pick up your signal. Lemmenjoki, situated some 200 miles North of the Arctic Circle in North Finland, used to be known for gold findings; today the most important industry is tourism.
A few words about myself. My working career was in business-to-business marketing but I am now retired. My wife is Kaarina and we have one son, Patrik. We also have a cute Birman Temple cat named Ziina. We live in a suburb of Helsinki called Marjaniemi by the Gulf of Finland.
Here in the Eastern parts of Helsinki we have a local radio listeners club. We are a handful of old time DX-ers meeting regularly to discuss DX-ing, sometimes bowling etc. With other DX-clubs in Finland we publish the 'Radio World' -magazine. If you will visit Finland and Helsinki one day, please visit our club, too. You are most welcome!
Sincerely,
Hakan Sundman
Helsinki Finland
---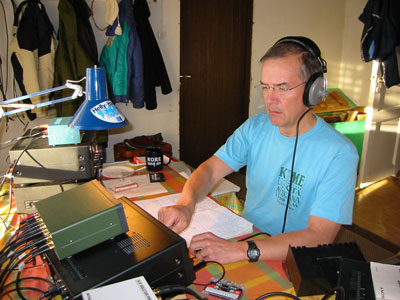 First off, greetings to Minnesota from Finland ! I am one of those Scandinavian radio enthusiasts spending long winter days 200 miles north of the Arctic Circle, listening to AM radio - with a hope for distant signals.
On Sunday morning, December 19, 2010, a few minutes after 6 am Central Standard Time I had the most interesting "encounter" with what sounds like KKIN to me. The first time my attention was caught when your address was given in connection with some contest or promotion at 6.03am: "...easy for you...and send it to P.O. Box 140, Aitkin, Minnesota 56431 and you'll be...on K-K-I-N Radio".

This was followed by another promotional anouncement or commercial. But after that one, I heard a male voice saying: "...simply log on to our website at kkinradio.com..."

After one more announcement, the program continued with "Bing-Crosby-type" of music, but I lost the signal around 6.15 am your time.
Your confirmation of this reception would make me very happy ! In my "career" of 45 years in DX´┐Żing, KKIN is the number 71 AM station in Minnesota that I have a confirmed reception from.

Best regards
Hannu Niileksela
Helsinki, Finland
---
I had the very great pleasure of listening to KKIN 930 AM on my radio here in Norway on December 7, 2010 at 6.00 a.m. CST.
I heard a male announce

r say

: KKIN

.

Right after this I heard an announcement from KSDN Aberdeen

,

SD

.

My receiver was a software defined radio (SDR) named Perseus (www.microtelecom.it/perseus), and I used a 2200-feet-long antenna to hear your station.

My name is Arnstein Bue, I'm 47 years of age and I work as an Account Manager in a leading IT company in Norway. I've been married to Heidi since 1989, and we have two sons (Mikael and Benjamin 22 and 18 years old). Trondheim is the third biggest city in Norway, has a population of 173,000 and is situated in the middle of the country. Norway has a population of 4.9 million. Trondheim is an old city, celebrating its 1000-year-jubilee in 1997! We have a big and quite famous cathedral here I town. It is named Nidarosdomen.

Since 1978 my favourite hobby has been to listen to remote radio stations on medium wave and shortwave (DX-ing), a hobby which gives me a lot because I learn about other people and other countries. I collect the verification letters, cards or emails I receive from radio stations.

Every year since 1997 in October I have visited a small place named Kongsfjord (Kings Bay) in Arctic Norway. Kongsfjord is actually at a latitude just south of Barrow, Alaska, and it

'

s east of Istanbul, Turkey. I use to be there with three friends of mine, mainly to listen to AM radio stations from North America and the Pacific. More information can be found at our home page www.kongsfjord.no
Arnstein Bue
Trondheim, Norway
---
Hello Minnesota! My name is OJ Sagdahl and I am a radio listener (DX-er) in Trondheim, Norway that collects radio stations. That is I chase the AM-band for distant broadcast signals and contact the radio stations that I have heard with a so-called reception reports to prove that I have heard them, and then ask if the station can confirm my reception. This confirmation (QSL) is the ultimate proof of my reception and this is what I collect. I have so far collected more than 1.000 US AM stations. Some 49 were from the state of Minnesota. Maybe I can add you as my #50?
This last months the listening conditions have been very good, and I have heard a number of stations. I heard KKIN-AM on 930 kHz AM on 7 December 2010 @ 6:00 am CST. I hear a male voice with "K-K-I-N."
I was using an Perseus SDR receiver (a software defined radio) connected to my PC. See www.microtelecom.it/perseus for more information. With this receiver I can receive up to 1600 kHz bandwidth at the same time and store it to disk. Then I listen through the saved data afterwards. The antenna is a 670 meters long (about 2000 feet) wire directed to the U.S. east coast from here.

OJ Sagdahl
Trondheim, Norway
---
I have the pleasure reporting reception of KKIN 930 AM over here in northern Sweden! It was a big surprise to hear this clear station on October 31, 2010. Reception quality was fair using a 3,000 foot wire pointed north from Parkalompolo, Sweden. This was rare skip over to Europe! I've been very actively scanning the AM for well over 40 years but never heard KKIN before! AM radio is full of surprises! Programming heard beginning at 12:59 AM Central Standard Time: Smoke Gets in Your Eyes song followed by station identification, "This is your home for America's Best Music on your local News KKIN Aitkin."
I'm 58 years of age and work for InfoCare Service as on-site service engineer which mean a lot of car travel as it's a large district to cover - the northern quarter of Sweden! InfoCare Service is the largest independent third party field service organization in Scandinavia in electronics/ computer service representing Fujitsu, Dell, IBM, HP, Lexmark, NCR and others and we also have to fix whatever breaks down at authorities, shops, banks etc. Bo is an old Scandinavian male name.
We live in a small house on the coast of the Baltic Sea. The short, but very light (In June/July it's daylight 24 hours a day!), summer focus is on outdoor activities. The other of the year means means much more indoor activities. In March snow is usually one meter (3 feet) deep. Around Christmas time the sun is only just above the horizon for a couple of hours. Up in the expedition site Parkalompolo the sun is never over the horizon for a little more than a week around December 20th.
From mid September until beginning of April I'm putting a lot of spare time into DX-ing, I.E. listening for North American AM signals from across the Atlantic and also writing the stations letting them know they made it across the sea or the north pole! Often only for a few seconds and through some interference from European megawatt transmitters or other US/Canadian stations with more radiated power to the northeast , but sometimes at very good signal under favorable geomagnetic conditions! Catching a new station means listening to noise for weeks first! Since signals only travel in darkness most of my listening is made when normal people are at sleep! Except in mid winter when it's dark in daytime.
Skelleftea is the home of about 75,000 people, half of which live in the city. Skelleftea is called "Gold Town" as we have both gold mines and the metal extraction industry here. Skellefte´ also produce a large part of the country's clean electricity from the water falls. 30 km north of Skelleftea you find Byske. Byske has 3,000 inhabitants in the winter and more than twice as many in summer. Many of them coming from Norway. Besides sun and bathing Byske has a good salmon river. Furuogrund, where I live, is 5 km east of Byske and it once had a big lumber mill and harbor, but of the then 1,200 living here now less than 80 are left. Furu´┐Żgrund is the canter of land elevation in Scandinavia, land rising about one centimetre per year. What was the coast line a few decades ago is now far away from the water! Bo Olofsson, Sweden

---
At 6.13 a.m. Central Standard Time on the 12th of January 2010, I noticed adult standards music on 930 AM. There was an announcement at 6.16 a.m., but I think "KKIN", "contest" and "ATV" were mentioned. "It Never Rains in Southern California" was played at 6.21 a.m. At 6.34 the identification: "..home of America's best music.. 930 AM KKIN.." followed by "What a Wonderful World." At 6.43:"..great memories to America's best music, adult standards 930 AM KKIN." Tom Jones and "I'm Never Gonna Fall in Love Again" was around 6.48 hours, and still one faint identification at 7.00 a.m., but then the signal unfortunately disappeared.
My radio is a Perseus software receiver with about a 1000-yard-long antenna wire pointing towards central North America. I don't have such a monster antenna at home, but I was on a radio excursion in northern Finland, in a place where we had enough space for such an antenna, and not much man-made noise around (some 45 miles from where Tuomo was at the same time.)
I am a 55-year-old teacher of English and Spanish in Joensuu, Finland. My wife Riitta is a teacher of German, and we have a 21-year-old son called Matti who studies information technology and a cat called Viiru (Stripes). My hobbies include painting, playing tennis and this radio hobby of trying to catch distant radio signals. My home town Joensuu with its 72,000 inhabitants was founded in 1848 at the beautiful mouth of the river Pielisjoki (Joensuu means "mouth of a river"). The whole region is dotted with hundreds and hundreds of lakes. Weatherwise we have had a very strange year. Last winter was very cold, 90 consecutive days below the freezing point, and then in July and early August we lived like in the tropics. But now this winter we have been back under a cold spell again, with lots and lots of snow.
I wish you all the best in all of your daily activities. I would really appreciate receiving your short reception acknowledgement as a tangible memento of these pleasant contacts via the airwaves.
Yours,
Jussi Suokas
JOENSUU, FINLAND
---
Greetings from Oulu, Finland! My name is Jari Ruohomiki and I send this letter to you because I was able to listen to your station's program here in Finland with my special equipment.
I am 50 years old and have a 23-year old daughter Anniina who is an university student of logopedics and a 19-year-old son Antti. I am a teacher of biology and geography for pupils from 13 to 16 years.
Oulu is the 5th biggest city in Finland with more than 130 000 inhabitants. It is situated just at the northern end of the Gulf of Bothnia in the northern part of Finland, more than 300 miles north of the southern coast and Helsinki, the capital of Finland. Oulu is the center of culture, traffic, sports and industry of northern Finland. Please check http://www.oulu.ouka.fi/ for more information of Oulu. Please note that you can change the language in to English from the left upper corner.
Since 1973 my main hobby has been listening to foreign radio stations. As you may know this hobby is called dx-listening. Since the beginning of the 1980s I have concentrated on listening to North-American AM stations. The conditions for listening are quite bad here in the region of Oulu. Therefore I go each winter with a friend of mine to the most northern part of Finland called Lapland for a listening expedition. We spend a week or two in an isolated cottage. The conditions are much better there because of less interference from human activities and from European AM stations. It is also possible to have longwire antennas which are ideal for our listening purposes. For the expedition we usually go to Lemmenjoki, some 200 miles north of the Arctic circle and 350 miles north of Oulu. It was right there I was able to hear your station, too. Please check for a full story of the expedition: http://www.dxing.info/dxpeditions/lem287rep.dx
It was written by Mika Manen with whom I spent 10 days in Lapland. But now I had better give the details concerning the reception. I was able to hear your station as follows:
- FREQUENCY: 930 AM
- DATE: 30TH December 2009
- TIME: 6.05 am CST
In the announcement I heard, a male announcer mentions your calls KKIN several time. Thank you for your program! I wish I could have listened to it much longer, but unfortunately it is very common that a far away AM station can be heard only a short time before it fades out.
I suppose you are interested in my equipment. My receiver is a Japanese made JRC NRD 535D communications receiver with an inbuilt digital frequency computer. When I heard your station my antenna was a 3300-feet-long copper wire which was directed to North-America, towards your area to be exact. In fact, I had five different antennas in Lemmenjoki pointing to five different North-American directions. It is very important to have a long antenna to a certain direction when one tries to pick up overseas AM stations. Yours,
Jari Ruohomiki
OULU, FINLAND
---